Shed Buying Tips
Considering a shed for your storage needs? Here are a few things to keep in mind before making a purchase.
Size
One of the first considerations is size; how much room is needed for storing the equipment, tools and other items that you have today? How much room do you anticipate needing for future storage? Often people think only of current requirements and forget that additional space may be needed when a family's supply of equipment, toys and sporting goods expand.
Location
Where you place your shed will influence size decisions and door placement. Think about whether you would like your building to be in the sun or shade, whether you want to see it from the windows in your home and what site will make it easiest to access frequently used tools and supplies.
Style
A shed represents what is likely to be the biggest design element in your landscape and so it is wise to consider appearance. Many sheds can be customized to match the basic design, colors and trim pattern of your house for a pleasing unified look.
Expected Lifetime
How long you intend to use your shed has significant bearing on the quality of the building you buy. If you expect to need storage for only a year or two, most any building will do. If, on the other hand, you anticipate having mowers, snow blowers, sporting equipment and the like for the foreseeable future, you'll be well served to buy a building that is constructed with materials and techniques that will last for many years.
Construction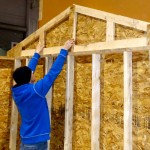 Shed construction varies considerably, something you've undoubtedly discovered if you've begun to shop around and review options. Building techniques that are used in quality home construction are always preferable.
Stud Placement: Most homes are built with studs placed 16″ apart. This 16″ on center placement results in a stronger wall to support the roof.
One Piece End Walls: Some sheds have end walls that are made from two pieces of siding, with a seam at the wall header. This pieced approach allows weather and sometimes insects to enter the building. Look for building with end walls constructed from a single sheet of siding.
Gable Vents: Vents allow air to flow out of a warm building. This equalizes the air pressure and keeps the building from over heating, an important consideration if you intend to store equipment with gasoline inside. Gable vents, placed high on the wall, are recommended for all buildings.
Elevated Floor: A wooden floor that sits on damp soil will rot. Make sure your shed has an elevated floor. Usually, 8″ above the ground provides plenty of space for good air circulation.
Roof edges: Roofs constructed with a drip edge will provide a finish free of leaks.
Soffits: The quality story is often told in the details. Look for finished sofffits and avoid open, exposed ones where weather and animals can enter your building.
Materials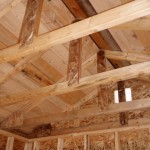 The wood used in your building can vary in both size and grade. The type of shingles and materials for exterior walls are also variable. Here's what experts recommend.
Foundations: Look for foundations made with top grade 4″x4″ pressure treated lumber for strength and weather resistance.
Floors: Flooring made from 5/8″ exterior grade plywood will stand up to the weight of riding mowers, snow blowers and other heavy items. This material will also handle moisture from grass cuttings and wet leaves that find their way inside the building.
Siding: Shed siding can be made of wood, vinyl or a weather resistant composite. One good engineered material is Dura-Temp, a sandwich of 5-ply plywood with an exposed layer of durable composite layer that holds paint very well. This surface ensures a long-lasting weather seal so moisture is kept out and paint doesn't crack or peel.
Sidewall Studs: Buildings constructed with 2″x4″ studs, like those found in a well built home, will last for years without cracking or warping.
Shingles: Roofing shingles can be made of several materials, each with different life expectancies. Self sealing asphalt shingles with a 20 year guarantee are recommended for quality buildings.
Rafters and Roof Sheathing: As with shed walls, if 2″x4″s are used for the roof rafters the building will be sturdy, and can be counted on to deliver many years of dependable service. Plywood, preferable half inch 3-ply, is the material of choice for roof sheathing. This will provide a strong base for the shingles.
Doors: Doors are the primary moving parts of a shed, so sturdy construction will pay for itself many times over in satisfyingly tight closures and easy openings. Sturdy doors reinforced with 2″x4″ top grade lumber are recommended for long wear and will minimize warping.
In the end only you can decide what will be the best size, style and quality for your new building. Whatever you determine, a little time reviewing options and quality considerations upfront will pay off in a purchase that will please you now and in the future.
Why We Build a Better Shed

We know that you have a lot of choices about where to buy your shed — the big box stores, the other retail locations, and the online stores.
Some of the basic things to use when comparing a shed from Company X and us are the ability to either have something that suits your needs, in stock, or the ability to quickly handcraft your shed to every specification in a short period of time.
We also recommend that you work with a true shed expert who'll take the time to find out first, what you intend to use your shed for, then coach you on style, colors, and the options that make sense for you. Be wary of uneducated sales people who try to sell you just on appearance!
Of course we believe that our sheds are the best constructed, but we know it would be best if you reached your own decision in choosing the highest quality shed for the best value.
 So we've put together some objective, unbiased advice to show you what to look for when storage shed shopping.